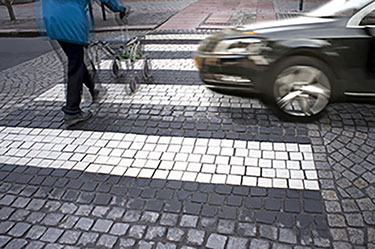 At Sabbeth Law, our Vermont personal injury lawyers have deep experience handling dangerous and defective product lawsuits.
If you or your family member was hurt by a defective product, you need to take immediate action to protect your rights.
For a free, no obligation initial consultation, please contact our law firm right away. Our law office serves clients throughout the state of Vermont.
Unfortunately, pedestrian accidents remain a major public safety problem in the United States, including in Vermont and New Hampshire.
According to the most recent data from the Centers for Disease Control and Prevention (CDC), nearly 130,000 people seek emergency medical attention after being hit by cars every year.
Tragically, nearly 6,000 pedestrians are killed. That means that a fatal pedestrian accident occurs once every 90 minutes on average. That number is much higher for non-lethal but otherwise life changing pedestrian accidents.
Pedestrians are vulnerable. When collisions occur, the consequences can be devastating, possibly catastrophic. Injured pedestrians need access to full and fair financial support to cover their medical bills, living expenses, and to compensate them for their pain and suffering.
In this article, our top-rated pedestrian accident attorneys explain how to prepare and file a lawsuit after a crash.
What to Do After Getting Hit By a Vehicle
1. Seek Immediate Medical Attention
If you were hit by a motor vehicle, it is crucial that you seek a comprehensive medical evaluation. To start, nothing is more important than your health and well-being. You may be far more injured than you initially realize.
In many cases, pedestrians report that their injuries came with a delayed onset. This is particularly true with head injuries, back injuries, and soft tissue injuries. Once the adrenaline rush wears off, you may start feeling an immense amount of pain.
In addition to protecting your health, you are also required to see a doctor if you are considering filing a pedestrian crash lawsuit. This is the first step in the legal claim process. As with other personal injury cases, pedestrian accident lawsuits are based, in large part, on medical evidence. If you have not seen a doctor, the insurance company is not going to offer you a pedestrian accident settlement.
Even with pictures of a terrible injury, they will refuse to recognize your loss if there is no supporting medical record. You will not be able to win your case. In fact, you will not even get out of the starting gate. And again, most importantly, you might not necessary care to meet the primary goal of minimizing the harm to you.
2. Preserve Any Relevant Evidence
Vermont and New Hampshire are both fault-based pedestrian accident states. In the majority of pedestrian accidents, negligent drivers are responsible for the crash. However, there are plenty of exceptions to that general rule.
An injured pedestrian could potentially be found liable for a portion of their own collision. This is something that plaintiffs must be prepared for: insurance companies often try to push liability onto the injured victim.
To file an effective, successful pedestrian accident lawsuit, you need to secure as much evidence as possible. Among other things, important pedestrian accident evidence may include a police report, photographs, videos, and accounts from eyewitnesses.
It is also recommended that you record your personal observations. Ultimately, the more evidence that you secure, the better off you will be when filing your personal injury lawsuit.
3. Avoid Giving a Statement to the Insurance Company
After a collision, injured pedestrian should avoid giving a statement to the responsible driver's insurance company. If you were hit by a vehicle, a representative of the insurance company will likely request a statement.
Do not talk to the insurance adjuster. Under Vermont law and New Hampshire law, injured pedestrians are not required to give a statement immediately after their accident.
You have the right to take the time that you need to recover from your accident and injuries. It is not in your best interests to give a recorded statement to an opposing insurance company. Insurers are simply looking for information that they can use against you.
They will twist your words and take your statements out of context. Pedestrian accident victims should always work with insurance carriers directly through their personal injury lawyer.
4. Call a Pedestrian Accident Lawyer
If you suffered a serious injury in a pedestrian crash, you need professional legal representation.
Emergency medical needs come first. After that, your next call should be to a trusted personal injury attorney who has experience handling pedestrian accident claims. Among other things, your lawyer will be able to:
● Assess your pedestrian accident case;
● Answer all of your questions;
● Explain your rights and options; and
● Prepare for personal injury litigation.
Pedestrian accident claims often require an in-depth investigation. Before moving forward in the legal process, your personal injury lawyer will conduct a review of your case — obtaining additional evidence and organizing your records.
As you only have a limited amount of time to file a personal injury lawsuit, the sooner you speak to an experienced pedestrian accident lawyer, the better.
5. Prepare a Claim Against the Responsible Parties
Finally, when the basic foundations of your legal case are in place, your pedestrian accident attorney will initiate the claims process. With personal injury lawsuits, the process typically begins with a 'demand letter'.
A demand letter — also referred to as a 'demand package' — is essentially a request for settlement from the defendant and from their insurance company. In the demand letter, your lawyer will lay out the details of your claim, including liability and damages.
A demand letter must be drafted properly. Any errors or sloppiness will undermine your case. When the insurance company receives the demand letter, they can respond in a number of different ways — from requesting additional evidence to submitting a counter offer.
Only with an effective, persuasive demand package will the insurance company actually take your pedestrian accident claim seriously. At Sabbeth Law, we don't only rely on your medical records and bills; we put your medical history into plain, understandable English, learn about the losses that are specific and matter to you and your family, and use multi-media to be sure to get your story across forcefully and clearly.
From this point, the personal injury claims process can go in several different directions. If the insurance company responds in good faith and with a reasonable counter offer, you may move into real settlement negotiations. Alternatively, your pedestrian accident lawyer may recommend filing a personal injury lawsuit to take your case to court.
Contact our Vermont and New Hampshire Pedestrian Accident Lawyers Today
At Sabbeth Law, our personal injury attorneys have extensive experience handling all types of pedestrian accident cases. We are here to protect your legal rights. If you were hit by a car, please contact our legal team right away for a free review of your claim. Our Law office represents pedestrian accident victims throughout Vermont and New Hampshire.